PAYMENT BY CASH OR CHECK ONLY
The orchard WILL OPEN SATURDAY, AUGUST 26,2017
HOURS:
9-2 Saturday;
9-5 Sunday, Monday, Tuesday
CLOSED Wednesday, Thursday, Friday
APPLES - $1.00/pound
CIDER - $4.00/half gallon; $7.00/gallon; $2.00/16 oz cup "to go"
APPLE BUTTER - $3.00/4 oz; $5.50/8 oz; $6.00/12 oz
APPLE SYRUP - $4.00/8 oz; $5.50/12 oz
APPLE JELLY - $3.50/8 oz
GREEN APPLE & TOMATO CHUTNEY - $3.00/8 oz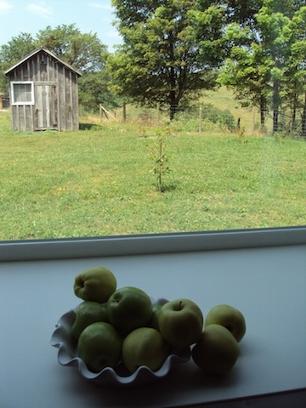 Our cider is simply pressed juice from fresh picked apples ~ and simply the best. You cannot get this in stores. We do not pasteurize, filter, add ingredients or preservatives. We press within a contained clean environment when we have at least three varieties of apples available and use only clean and unspoiled fruit. The pressed juice is immediately chilled in a stainless steel container, then bottled and refrigerated.